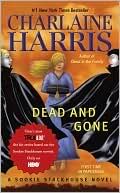 Dead and Gone
Charlaine Harris
Fiction; mystery; paranormal romance; series
289 pages


For Sookie Stackhouse, the day to day activities of the vampire and were communities in and around Bon Temps, Louisiana, are of vital interest, She's blood-bound to the leader of the vamps, a friend to the local were pack, works for a man who is shifter, and has a brother who is a were-panther…
But for most of the humans in Bon Temps, the vamps are mysterious seductive creatures-and they don't even know about the weres.
Until now. The weres and shifters have finally decided to follow the lead of the undead and reveal their existence to the ordinary world.
At first it seems to go well. Then the mutilated body of a were-panther is found in the parking lot of the bar where Sookie works. The victim is someone she knows, so she feels compelled to discover who-human or otherwise-did the deed.
But what she doesn't realize is that there is a far greater danger than the killer threatening Bon Temps. A race of unhuman beings--older, more powerful and far more secretive than vampires or werewolves-- is preparing for war. And Sookie will find herself an all-too human pawn in their battle…

Wow! This is now one of my favorite books in the series!

I was surprised that they killed off Crystal. I didn't like her character, but I was sad that Jason's baby died too. However, I loved the interactions between Eric and Sookie in this book. I hope that they stay together. They make a much better couple than Quinn and Sookie. I also was glad that Sookie told Jason about Niall. I hated that Tray and Claudine died though. They were two characters that I really enjoyed. As much as I don't like Bill now, I was glad that he didn't die. He complicates things, which keeps me interested in the books haha!

I cannot wait for Dead in the Family!!!!!
***Next read: I have started reading Blood Rites, which is the sixth book in the Dresden Files series.